What's SEO?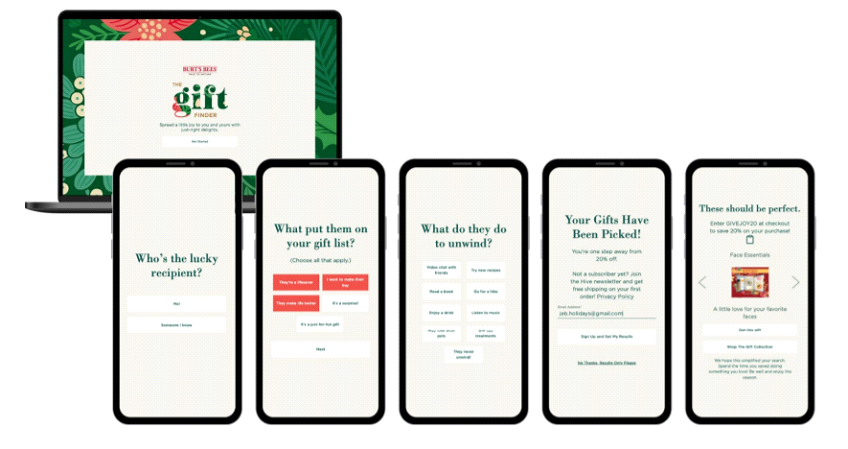 Quiz Commerce is an interactive way to offer genuine value to consumers and better understand their needs through a more authentic direct-to-consumer relationship. In other words, to offer consumers the opportunity to take a quick, interactive quiz and based on their preferences and needs, help them find what they're looking for.
As you might imagine, to recommend relevant products based on consumers' preferences and needs, you must first have the ability to collect them. Enter PTM/IMX, the leading quiz software to collect consumer-declared, first-party (also referred to as zero-party) at scale.
Using PTM/IMX, you can create interactive quizzes and experiences like Product Finders (i.e. Holiday Gift Finders). Personality quizzes, Interactive Look-books (i.e. Holiday Gift Guides), and more, without ever needing to touch a line of code. Using these interactive experiences, you can ask consumers questions like "Who are you shopping for?", "How would you describe your style?", or "What's your budget?" - and in the backend, use PTM/IMX's dynamic logic features to then match consumers to the right product(s) or gift(s) for them, all based on the answers they provide.
With PTM/IMX, the quizzes and experiences you create can be developed on any channel, on-site, social, email, SMS, in-app, paid media. QR code, etc. so that you can meet consumers wherever their attention is.
By using the data captured from PTM/IMX in your holiday quiz commerce blitz with Publish Today Media, brands can increase engagement, enhance personalization, boost conversion rates, enrich customer profiles, and increase customer loyalty and lifetime value. How, may you ask?